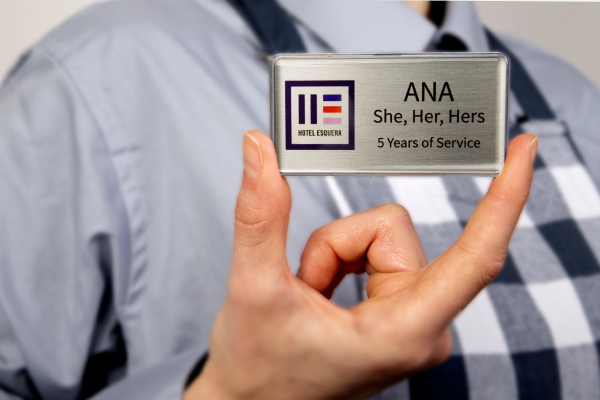 Is it about time for you to make the switch to a provider of professional name badges that is as serious about producing high quality products as you are about engaging your customers? Are you curious about what kind of quality is available for professional name tags today?
A name badge deserves more than a passing glance because it's the first impression that your customers have of your employees - or the first impression that your employees have of each other.
We're as passionate about quality as you are - that's why we provide some of the following features with our name badges and signage.
1. We use high quality materials
Whether you prefer the look and class of a metal name badge or would rather go with a fleet of plastic name badges for your personnel, we only use high quality materials.
Our reusable metal name badges are printed on a thicker durable, rust-proof aluminum plate for a lifetime of use - and they're available in gold, silver or even white with a variety of shapes and sizes. Each piece is manufactured and inspected on site to ensure there are no flaws.
You can pair these with our shatter proof and scratch resistant lenscover to protect the badge - but don't worry, they're still 100% recyclable in case you need to replace them in the future! Only the highest quality polycarbonate is used to create these crystal clear covers, we ensure your branding shine through with no yellowing or distortion.
Because our components are durable, many of our professional name badges are reusable. In fact, with proper care, they are likely to last for many years.
2. Many of our name badges are reusable
When you invest in a new set of name badges for your staff, make your investment count by purchasing reusable badges. Ours can be reused again and again, which is great for two reasons. In addition to being cost-effective, it environmentally friendly.
3. Superior ink adhesion, clarity and longevity
No matter the printing process we choose, all printing is tested for superior ink adhesion, clarity and longevity. Guaranteed not to chip or fade over time. We take your branding seriously and ensure it is color matched and registered to meet your strictest guidelines.
4. If printing is not the look you are going for, we also engraving!
Imagine you want to go a step further with your custom name badges, a custom shape or size. We carry a vast array of material colors and finishes, and have a design team available to bring your vision to life!
5. We offer more than one fastener option
We're all about giving our customers choices - and truly personalized name tags should come with your choice of fastener. We're not going to take a one-size-fits all approach here!
Our name tags come with your choice of either a pin fastener or a magnetic fastener, whichever works best for you and your employees. We use impressively strong rare earth magnets
fasteners, which are surprisingly effective for thick fabrics, but then again, you can't beat the durability and hold of a pin fastener, great for those physically demanding positions. Our fasteners are inspected and tested to perform and not break over time! The last thing we want is for badge loss due to a faulty fastener.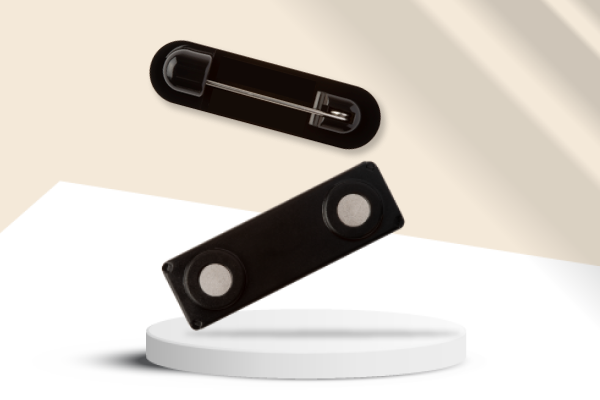 6. No upcharges or hidden fees for extra titles or text - text is unlimited!
It doesn't matter to us how long your company name or slogan is - it's important to you and therefore it's important to us. We want your customers to see it, and that's why we don't hide fees for extra characters or impose character limits. Your badge is yours to design as per your requirements.
7. You design it - you choose whether you want us to print it or you do!
Here at Imprint Plus, we also give the option of printing for you or allowing you to do your own printing.
If you choose to do your own printing, you can design your name tags using our design tool and then print it, but we also serve our customers that don't have ready access to such resources. Just select from our wide range of options, design a logo name tag or a full-color professional name badge, and we'll print them for you!
8. We take sustainability seriously
Our processes also add another dimension of quality, which is that we are committed to sustainability. Imprint Plus is proud to be a member of the Green Business Bureau, and we have a development team continually working with new materials to bring our clients green, reusable products.
---
Are you fed up with bad printing and incorrect fastener placement?
Don't worry. There is a 100% product quality guarantee on all our products. We care about our quality, which is why we place each pin by hand and inspect it for perfection to ensure that your badge is straight once worn, we want your employees to shine.
Don't settle for unorganized bags or boxes.
With us, you can expect your products to arrive undamaged, scratch-free and ready to distribute with ease. Do the names on your badges fade over time or arrive with misprints? We specialize in printing badges that last for many years without fading, each badge is printed to perfection, we take your branding seriously.
Would you like to learn more about what we have to offer?
Visit our website to learn more. Please do not hesitate to contact us with any questions! If you would like to get in touch with us via email, you can reach us at customerservices@imprintplus.com, but we're always happy to help you over the phone - 1800 563 2464.