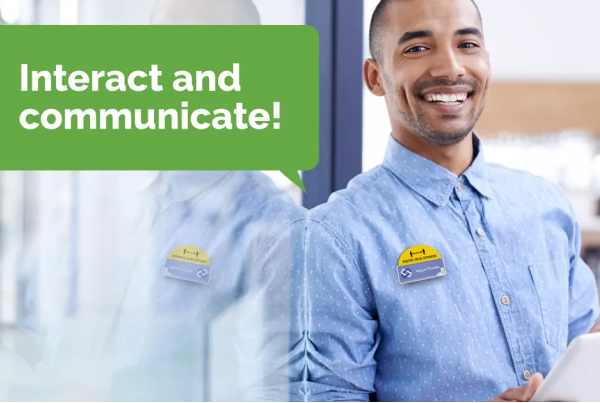 Who here reaches for their phone the second they wake up? How many minutes go by before you're nose deep in emails, social media posts and the day's biggest headlines? With office workers checking their email 30 times an hour, and users reaching for their phones more than 1,500 times a week, it's safe to say we are a distracted bunch*.
According to researchers, the human attention span has actually dropped significantly, going from 12 to just 8.25 seconds between 2000 and 2015*.
In a world saturated with media, finding new ways to get through to each other has become a serious challenge. But for managers trying to encourage engagement amongst their staff, marketers trying to promote new products, and leaders everywhere trying to get their message across, there's a remedy to this connection challenge: badge talkers.
Badge talkers keep it short and sweet. These concise, to-the-point name badge accessories are an efficient way to communicate critical information. Great for the modern attention span, they'll get your message across in less than 8 seconds!
Keep reading to discover 7 innovative ways to use badge talkers.
1. Advertise special pricing
Trying to flood your customer with a list of numbers while they're mid-shop might not be the best strategy. In fact, research has shown that upselling is one common practice used in customer service that consumers actually hate.***
Instead, use your front-line staff as a marketing opportunity, and advertise special pricing on each name badge. That way, you can easily communicate new prices without bombarding your customer.
2. Communicate critical information
Did you know the average user reads only 28% of the words on a given webpage, or that they often spend just 10 to 20 seconds before leaving?* When you're trying to relay important information, you need to keep it short and sweet. Badge talkers are the perfect solution - by offering information at a glance, you can convey your message quickly and efficiently.
Social distancing badge talkers are an excellent example - customers can clearly read directives to remain 6 ft apart, taking the burden to remind customers off of employees. Similarly, 'Languages Spoken' badge talkers create a more inclusive environment for consumers. When customers can clearly and quickly see which languages are spoken by staff, they instantly know who to approach for help.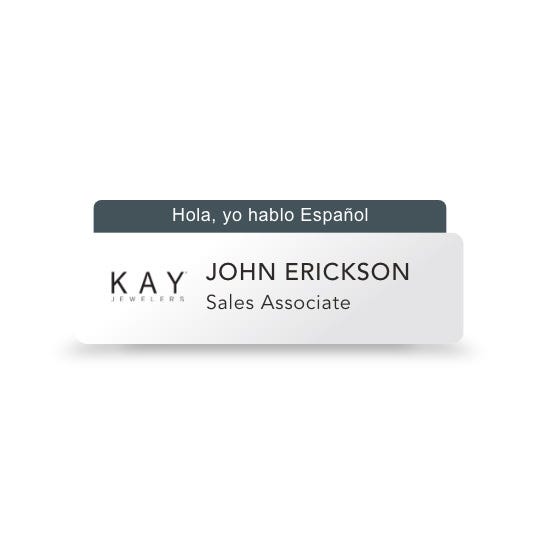 3. Boost Interaction at Meetings
Holding interactive meetings can be a challenge for employers. Hums, haw, sighs and yawns are often the first sounds heard from the board room. This time, surprise your team with icebreaker badge talkers and start the meeting with energy and enthusiasm.
You can choose your own prompt to display on the name badges of each team member. Once you've captured their full focus, they'll be more likely to stay tuned in for the rest of the day.
4. Highlight Your Amenities and Services
Highlighting services and amenities is an essential component of any marketing strategy. However, many companies miss out on the best real marketing real estate available: front line staff.
By featuring your services on a badge talker, you give your customer the opportunity to engage with you about your services in real time. Consumers can immediately inquire and ask questions, and in turn, receive accurate information from a friendly face.
5. Introduce New Product Campaigns
While some might think new product campaigns are reserved for times of economic growth, business mogul Marc Cuban thinks otherwise. In a discussion on how small businesses can navigate the current COVID-19 pandemic, he stressed the importance of finding other services to offer and the value of experimenting with new lines of business.**
If you find yourself taking his words of advice, badge talkers are an effective tool to start with.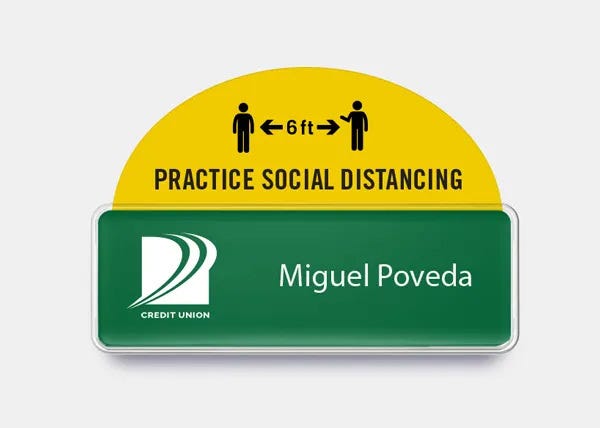 6. Promote Upcoming Events or Holidays
Holidays provide businesses with a chance to connect with their consumers. As the decorations go up and the promos come out, customers and staff are able to join together in their excitement. Badge talkers are an easy way to participate in the festivities, helping you to create stronger community connections along the way.
Badge talkers are also great for highlighting upcoming events - whether it's hosted at your facility, occurring in partnership with another organization, or even being held in a virtual space, your badge talker will generate curiosity and give your event the attention it needs.
7. Make it Personal
Every second of your customer interaction is valuable. It is during these critical moments that your staff have the chance to offer personalized service and truly connect with the consumer. Offering this kind of service can have a huge impact. In fact, one research report revealed that 80% of consumers are more likely to purchase a product or service from a brand that offers personalized experiences. ****
Thankfully, badge talkers help to spur conversation, opening the door to that personalized service that consumers crave. When your employees are on a first name basis with your customers, you can feel confident that you're offering a personal touch.
Try yours today.
Now that you know the true powers of this versatile badge accessory, it's time to try it out. Imprint Plus has a variety of customizable options, available just one click away. We want to hear about your experience. How has the badge talker helped you and your business?
* https://www.wyzowl.com/human-attention-span/
**https://www.cnbc.com/2020/03/16/mark-cubans-advice-for-small-business-owners-during-the-pandemic.html
***https://lumoa.me/customer-experience-stats
****https://us.epsilon.com/pressroom/new-epsilon-research-indicates-80-of-consumers-are-more-likely-to-make-a-purchase-when-brands-offer-personalized-experiences