The planet is in the midst of what some are calling "The Plastic Crisis." It's estimated that 14 million tons of plastic make their way into the world's oceans each year and that the equivalent of 22 billion plastic bottles ends up in landfills in the same amount of time.
This has spurred individuals and businesses to rethink their current consumption habits and adopt more sustainable alternatives wherever possible.
Here at Imprint Plus, we did our research, too, and came up with the Eco Badge, a reusable, custom plastic name tag that adds a lot of value.
What Is the Eco-Badge Made of?
The secret behind the eco-friendliness of the Eco Badge is that it's made from high-density polyethylene, also known as HDPE.
Many types of recycled plastic products are made from HDPE, including some brands of outdoor, all-weather furniture.
Lightweight, strong, and remarkably resilient, HDPE is made from a string of polyethylene molecules and is commonly sold in sheets.
It is commonly used to create food and beverage containers, bottles, pipes, cutting boards, and a variety of other consumer products.
It's also the keynote ingredient behind the construction of the Eco Badge - but what makes it such a big deal?
Well, HDPE is considered a low-hazard polymer material. Producing it does not release toxins into the environment, and it has a low risk of leaching into water sources. It also does not release toxins or toxic fumes as it breaks down.
Even though HDPE does not easily biodegrade or convert into biomass, it can be easily recycled and it often is. In fact, it is resistant to many chemical solvents, making recycling easier.
In fact, after single-use HDPE products like milk jugs and detergent bottles have been spent, they're recycled into chairs, tables, and other more durable goods.
The other thing about HDPE is it's downright tough, making it a choice synthetic for the creation of reusable products such as custom plastic name tags such as the Eco Badge. Since HDPE is amazingly strong and abrasion and impact-resistant, it is a very long-lasting material that can be used for years without breaking or wearing down.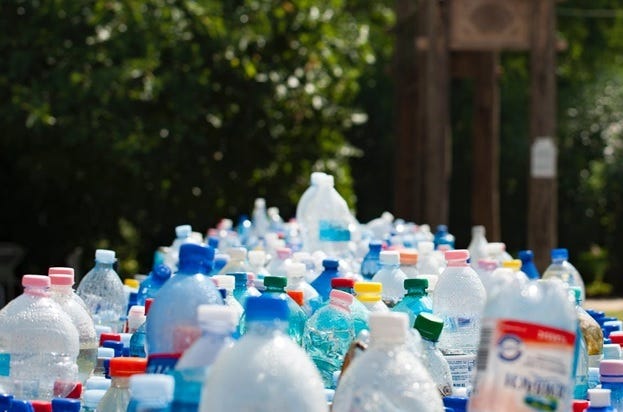 Eco Badge Benefits
Obviously, one of the strongest draws of the Eco Badge is the fact that it is a highly sustainable solution.
The Eco Badge features highly durable construction. Eco Badges are available in 11 different sizes and several different colors. They are made from .055" sheets of highly durable HDPE with a smooth finish that is ready for printing on both sides and compatible with UV printers.
They are also strong yet very lightweight, and HDPE is naturally resistant to chemical and microbial attack, making them not only long-lasting but sanitary as well.
As reusable name badges, they will last a long time with proper care, and when you do need to get rid of them, you can recycle them in full confidence that you're doing your best for the environment.
Better for Branding, Too!
The Eco Badge is also great for branding and improving the customer experience, too, since it can be used as a custom plastic name tag that can be configured to reflect the value of your organization.
These custom name tags are available in three shapes and a variety of different sizes - depending on your needs - and are available in a wide range of full-color options.
They're the perfect all-in-one solution for custom reusable name tags that can be pre-printed with your company's logo. Names, titles and more can then be added with a label maker or a marker - whatever works best for you.
Another note on durability - the Eco Badge features superior ink adhesion for long-lasting durability and communication. Moreover, there's no limit to what we can create and there are no hidden charges for characters or limits. If you want to add a name or a title, just let us know and we can make it happen.
Updating your staff with a fleet of custom plastic name badges has the potential to dramatically enhance your branding efforts, improve brand consistency, and streamline communication with clients. Plus, these badges are suitable for all different sorts of industries and durable enough for both indoor and outdoor use!
Design Your Own Custom Plastic Name Tags!
While you can design your own badges here, we're more than happy to work with you to help you complete your vision, and it just happens to be fortunate that by choosing the Eco Badge you'll be doing your part to help combat the plastic crisis!
Get in contact with us at 800-563-2464 to design your own custom plastic name tags just how you want them to be - and don't miss a chance to check out some of our reusable metal name tags as well!