Imprint Plus offers a wide range of quality name badges and professional signage, making it easy for you to design truly custom, brand-integrated, reusable name badges that will lend value to your organization long after you print them.
But if you're here looking for the steps to success, here's what you need to know about designing reusable name badges that will deliver.
Consider Scalability
First, consider the scalability of the solution. Remember that titles can change and positions can open up at a moment's notice. We offer a wide range of permanent and reusable solutions in metal, plastic, and even bamboo on our website.
Once printed, most of these are permanent, but one solution, The Mighty Badge is a high-quality metal badge, available in gold, silver and white.
Unlike other badges, most of which are printed directly on their faces, The Mighty Badge accepts printable insert sheets that are affordable and can be replaced as needed - or when titles, positions, or design requirements change. If you need a reusable badge solution that offers scalability and flexibility, this is one of the best options we offer.
Choose a Material
In addition to The Mighty Badge, we offer a range of badge options in metal, plastic, and even bamboo, making it easy to select a material that meets your requirements for durability, reusability, and sustainability.
Many of our reusable and permanent metal name badges are made from your choice of either aluminum or steel. Both materials are durable, wear and corrosion-resistant, and can ultimately be recycled.
We also produce badges from bamboo, which is cost-effective, convenient, biodegradable, sustainable and renewable, and surprisingly durable.
Even our reusable plastic name badges are predominantly made from HDPE, a non-toxic synthetic polymer that can be recycled, and therefore reused, many times. They're also great for use indoors and outdoors!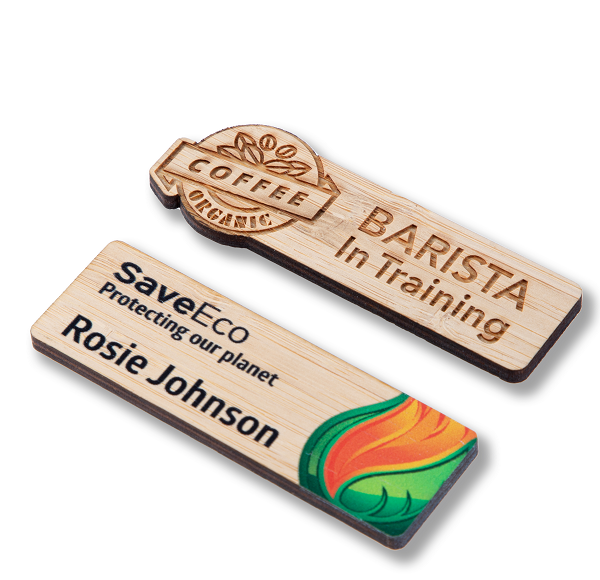 Choose a Size and Shape
After you select a material, you need to choose a size and shape that you think best reflects your brand image. Many of our reusable badges are configurable in a variety of different shapes and sizes. We offer badges in rectangular, square, and oval configurations from sizes as small as 1.5"x3" to sizes are large as 2.225"x3.37".
Color, Orientation, Font Size, and More
Next, it's time to choose a badge color. In addition to basic background colors like silver, gold, and white, our badges can be printed in full color to meet your branding requirements.
Choose a background color that either reflects your brand or logo, or if not, a neutral one that does not compete with it.
As you settle on an orientation and theme, consider the elements of your logo. Are they more horizontally or vertically oriented? When setting a thematic premise, remember that too many conflicting elements can muddle the message of the name badge.
Font size and style will depend on your brand and how much information you wish to convey on the badge (see the next section). You can choose to fill the badge entirely or leave negative space to include elements like logos or wordmarks. The standard font size is 16 pts for names and 12 pts for titles.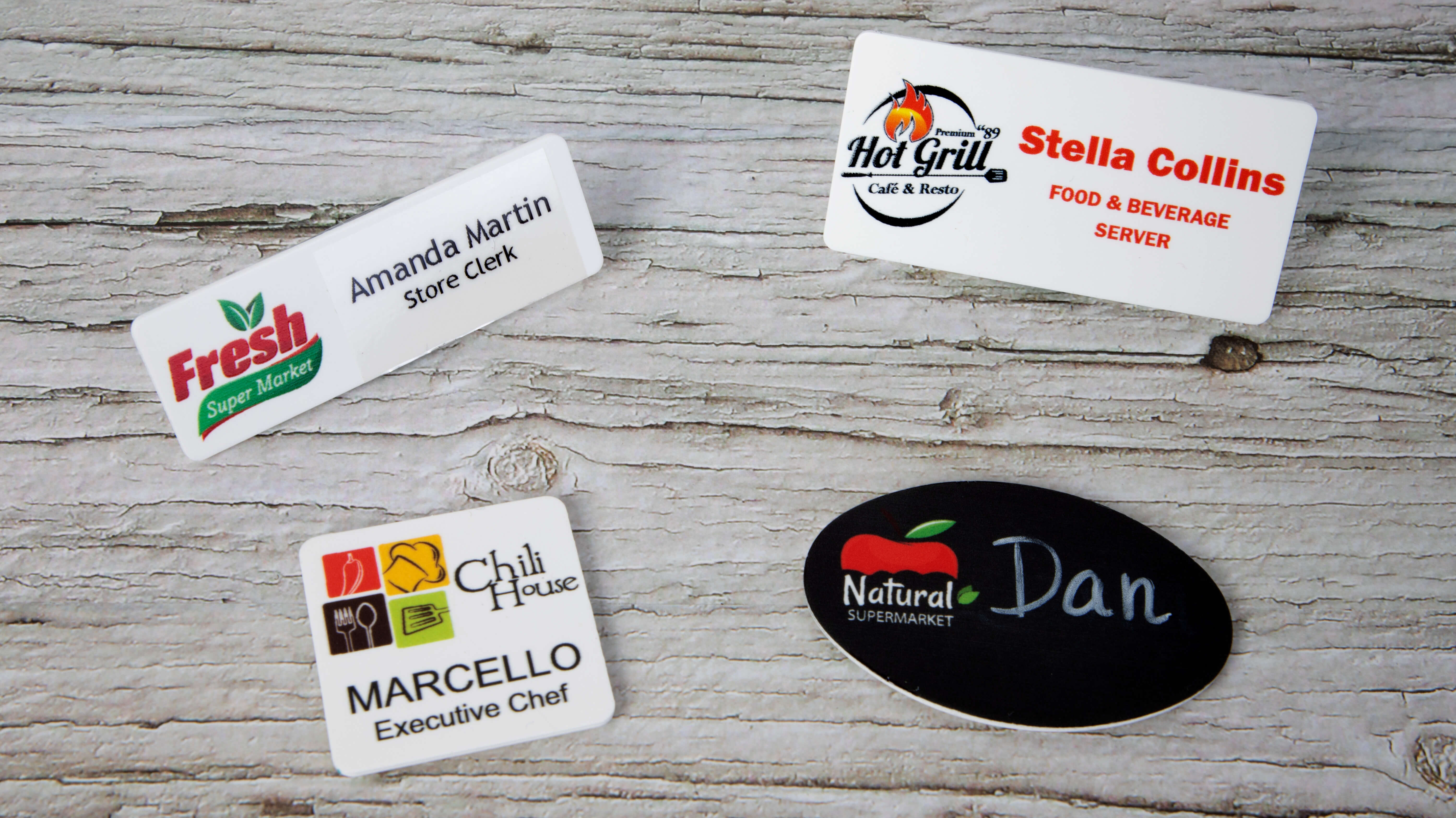 What to Include on the Name Badge
After settling on a badge material, style, shape, color, and font that will complement the nature of your company's brand, it's time to figure out what you want to include on the badge itself.
All name badges include names - that's the baseline. Do you also want to include titles, pronouns, country of origin, and honorifics? Keep in mind that you can but these will take up more space on the badge.
Some organizations also choose to include company mottos or visions on their name badges, although this is a matter of personal preference. Others include the date the employee started, to give an impression of credibility and experience.
The Extras
In addition to reusable name badges, we also sell add-on products such as lapel pins and badge talkers. Our badge talkers, specifically, complement our reusable badges and can advertise all sorts of helpful information.
We have name badges that advertise employee language skills, experience, and much more. We also produce badge talkers that can be changed out seasonally to create a more festive or appropriate employee image.
Reusable Name Badges: A Variety of Different Uses
Our reusable name tags are useful for a wide range of different applications, including but not limited to:
On-site employee name badges
Controlling access to restricted areas
Professional events, conferences, seminars, and tradeshows
Membership programs
Gyms and country clubs
Casinos and hospitality
Networking events
Volunteer events
And much more
Get Started Designing Custom Reusable Name Badges Today!
While our design software makes it easier than ever to design and print your own reusable name badges, our professionals, who have many years of experience, are here to help.
You can get started designing your own via the previous link or contact us at 800-563-2464 to get help from one of our professional designers.