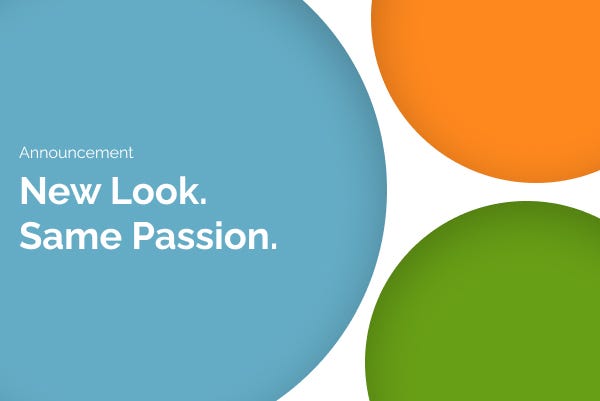 Introducing Imprint Plus's new visual identity and company logo.
As part of our ongoing brand evolution, we are excited to announce that our company's logo and visual identity are officially changing on July 12, 2022. We're proud to unveil a freshly updated logo and brand identity that brings new vitality and purpose to our brand. The new identity will allow us to provide our customers and partners with an enhanced, more enriched experience across every aspect of our company.
"A lot of businesses evolve over time, everything does, especially technology! We've been busy updating our website, updating systems and we've especially evolved culturally as a team. To ensure our company is with modern times, it just made sense that our logo needed a refresh to express who we are today," according to our General Manager, Joanne Richards. "We want our customers to feel like the company they are working with is up to date. We are now 40 years in business and making great changes to keep up with the modern world. I'm beyond excited and proud to showcase our new refreshed look!"
Drawing inspiration from the youthful energy of the eye-wink emoticon, the new company logo represents Imprint Plus' mission to shape human connections for our clients and partners. This process helped guide our thinking as we worked on defining a new visual strategy.
Creating a new distinctive mark for our brand was our number one priority. The happy face emoticon represents a cheerful, positive attitude and conveys a sense of joy in the connections we make every day.

Our commitment to staying grounded in trust and tradition is symbolized by the i+p wordmark. The wordmark pays homage to our momentous past while keeping creativity and trust at the heart of what we do. It represents a new era of limitless possibilities that is ushered in by the playful, friendly approach.

We used shapes and layers to highlight our core product on the newly redesigned nametag design. By combining shapes and layers, we convey the idea of an experienced brand that is continually evolving and moving upward.

Our emphasis on the word

Plus

denotes our promise to always exceed expectations. We're excited to bring to life our promise to do more and go the extra mile. It is our commitment to going above and beyond in every aspect of our business.

The new visual identity introduces a fresh new blue - a vibrant, youthful color to represent who we are as a brand today. The green is a reflection of our commitment to a sustainable future for our company and the world.
In essence, our new identity has been designed as a fresh take on powering human connections. We believe that our new visual identity and company logo brings a greater sense of confidence in our values, and tremendous enthusiasm to serve our customers. As a result, we intend to showcase our company with greater clarity and deliver enhanced services in the future. Our heartfelt gratitude goes out to all of you for your continuous support since the company began its journey. We would be happy to answer any questions you may have at marketing@imprintplus.com.