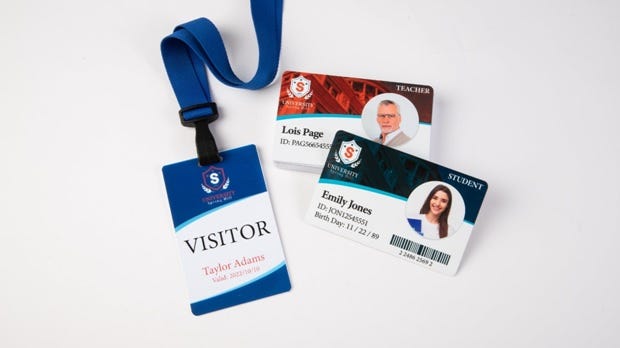 In the modern era, with everything being digitized and easily traceable, even at a very minute level, does something as theoretically archaic as a photo ID still have a practical place in the workforce?
Well, to keep things succinct, yes. For more than one reason.
Let's take a look at some of the many ways a photo ID card can create a better working environment and empower your organization like never before - and how you can pair photo ID card holders with them for even greater effect.
Hello, What's Your Name?
Let's just assume for the purposes of this thought exercise that your staff members are customer-facing. What's the first thing you associate with the person helping you? Probably his or her face, right? After that, what is it?
Probably his or her name. Except, if your staff members aren't decorated with name tags, that information is inaccessible. That, however, is just a defense for the use of name tags in general. What about photo ID cards?
Well, for one thing, a photo ID card helps to bridge the gap. You have to take a picture-less name tag at "face" value (no pun intended), but with a photo ID card, you can literally put a face to a name.
This makes your employees seem more personable and much more approachable. It also helps ensure that your customers know they're talking to the right person. But it doesn't just apply to staff-to-customer interactions.
Consider large organizations with many well-organized and heavily staffed departments. Some of these organizations might even span multiple buildings or locations. It's a lot more personable talking to someone in your company when you can actually see the face and name of the person you're talking to. Photo ID cards and photo ID card holders improve employee-to-employee relationships and help streamline communication, too.
Naturally, this was always true - but there's another unique facet that's only cropped up in the past year or two, making the value of photo ID badges even more pronounced than they were, to begin with.
Mask Up: What's Your Name, Again?
In early 2020, the virus responsible for COVID-19 started to change the face of society in general and trade in specific. Businesses were subjected to regional, even nationwide lockdowns, and trade slowed or halted.
When things began to open up again, it was under stringent guidelines in an attempt to slow the spread of the virus that caused the disease. Many areas were subjected to mask mandates and occupancy limits, requiring businesses to observe them in order to be allowed to proceed.
Even after some restrictions were lifted, out of respect, and in the best interest of the health of their customers and employees, many businesses continued to require masks, especially in indoor areas.
Previously, a regular name tag might have been sufficient to identify the person to whom you were speaking. Nowadays, nearly everyone's identity is either partially or fully eclipsed by a mask. It used to be taboo to cover the face in a place of business, and now it's the norm.
While surgical masks can help prevent the spread of airborne infectious diseases, they also make it difficult to see who you're talking to. In addition, even if you know who you're speaking with, they remove some of the personal element from the exchange, making everything a little more aloof.
Photo ID cards and photo ID card holders can reintroduce some of that personality into the exchanges between your employees, or between your employees and customers. Not only does it make the exchange a little warmer, it's also possible for you to once more "put a face to a name" which would be impossible without a photo ID.
Of course, utilizing photo IDs when your business is under mask requirements can also potentially boost your security measures, as it's easy to hide the identity behind a mask but not as easy when the visage and name are prominently displayed on a name badge.
Restricting or Allowing Access
You don't necessarily need to have photo ID cards in order to enforce your security measures, but they can certainly help. Even if you don't have badges that can be scanned, or which contain RFID tags, your staff can easily keep track of whom is working where, and where they should be working.
In facilities that have stringent security protocols in which certain rooms, floors, or equipment are restricted, photo ID badges can help your security personnel ensure people are where they should be, even behind a mask.
It's a lot easier to manage security protocols with more efficient measures like unique barcodes and identifiers which can allow or disallow access, but having the employee's face and name on their name tags is a good redundant measure.
Expanding Brand Management
Fortunately, rolling out a new set of display IDs with names and photos doesn't all have to be about enforcing security and promoting communication. You can also promote and expand the value of your brand with a new set of custom name tags and ID badge holders for your organization.
Here at Imprint Plus, we make it easy for you to create customized name badges that are full-color and fully brand integrated, in a wide range of materials. Looking for a new set of badges that are aligned with your brand coloring? Looking to work your logo into your name badges? We can help you make that vision a reality. Just get in touch with one of our design specialists or use our design tools and we'll help you make it happen.
Get Started Creating Your Own Photo IDs (Pair Them with Photo ID Card Holders)
Whether you're looking for new photo ID cards, photo ID card holders, or a lanyard or badge reel, we have what you need. Take a look through some of our collections via the previous links and if you have any questions or need help, reach out to us directly at 800-563-2464